INSTAGRAM & TWITTER HASHTAG PRINTER
Interactive Event Activation
BOOK NOW
CHECK AVAILABILITY & PRICING
Have an event coming up? Fill out the form below and we'll be back in touch within one business day to confirm availability and provide a quote.
Hashtag Printers are a new generation of entertainment designed to promote a brand, an event, or a product on Instagram & Twitter while significantly increasing brand awareness and social media engagement.
Hashtag Printers are a highly efficient marketing tool because they implement crowdsourcing to boost greater social media outreach.
Here is how a Hashtag Printer works, attendees take photos with their phones anywhere in the venue capturing memorable pics of the entire event, then share their favorite pics on Instagram or Twitter adding your designated hashtag, Yoomee automatically monitors the designated hashtag and prints out tagged photos within seconds. All photos are printed with your logo showcasing your brand or event.
SNAP
Attendees take pics with their phones anywhere, capturing the entire event.
TAG & POST
Attendees upload pics to Instagram or Twitter with the event's designated hashtag
PRINT
Yoomee monitors the designated hashtag and automatically prints all tagged pics -up to 240 pics/hour
KEEP
It takes just half a minute from when your pic is uploaded to when you are holding it in your hand
UNLIMITED PRINTS & UNLIMITED SESSIONS
We offer unlimited prints throughout the duration of your event! Guests are able to use the hashtag as many times as they wish via Instagram & Twitter to receive unlimited prints
CUSTOM PRINT DESIGN & BRANDING
Our designer will customize the look of your prints & touchscreen
PROFESSIONAL & FRIENDLY ATTENDANT
Our professional & friendly booth attendant will be there for the duration of your event to operate the booth and answer any questions.
See all pics appear in real time on our easy to use touch screen that allows you to swipe through and re-print your favorite pics or delete bad ones.
After your event, you will have access to all the digital files collected during the campaign.
Yoomee Instaprinter tracks prints, users, reach, impressions, and more.
CUSTOM PRINTED STEP & REPEAT
We offer multiple custom printed backdrop options including a custom Step & Repeat. Custom backdrops come in multiple sizes and may be flat or curved. Please, contact us for more info and pricing.
Custom printer branding options include full kiosk wrap and partial kiosk branding with custom decals. Please, contact us for more info and pricing.
MARKETING/ANALYTICS DATA COLLECTION
We offer several marketing options for corporate clients including email collection and detailed event analytics. A custom disclaimer may be added on the welcome screen. Some of our booths offer advanced social analytics including outreach, impressions, shares, views, downloads, and other social statistics. Please, contact us for more info and pricing.
We are able to create a custom built in survey or questionnaire to collect valuable information or feedback, ask questions about your brand or product, or get useful insights to help your company/brand grow and expand. Please, contact us for more info and pricing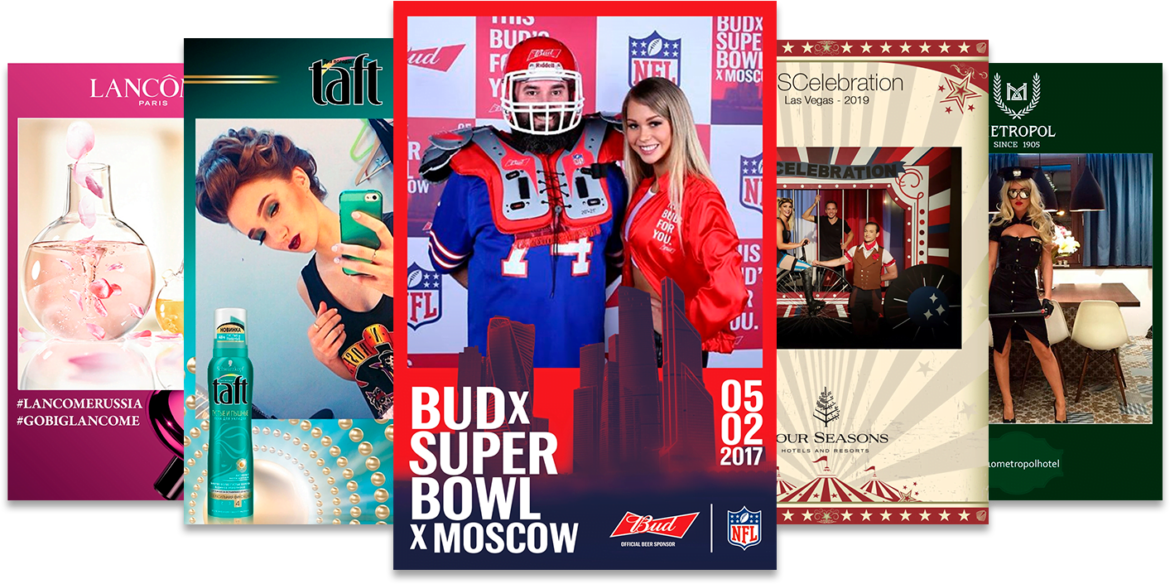 RESERVE YOOMEE INSTAPRINTER TODAY
Great for Product Activation, Trade Shows, Weddings & Parties.